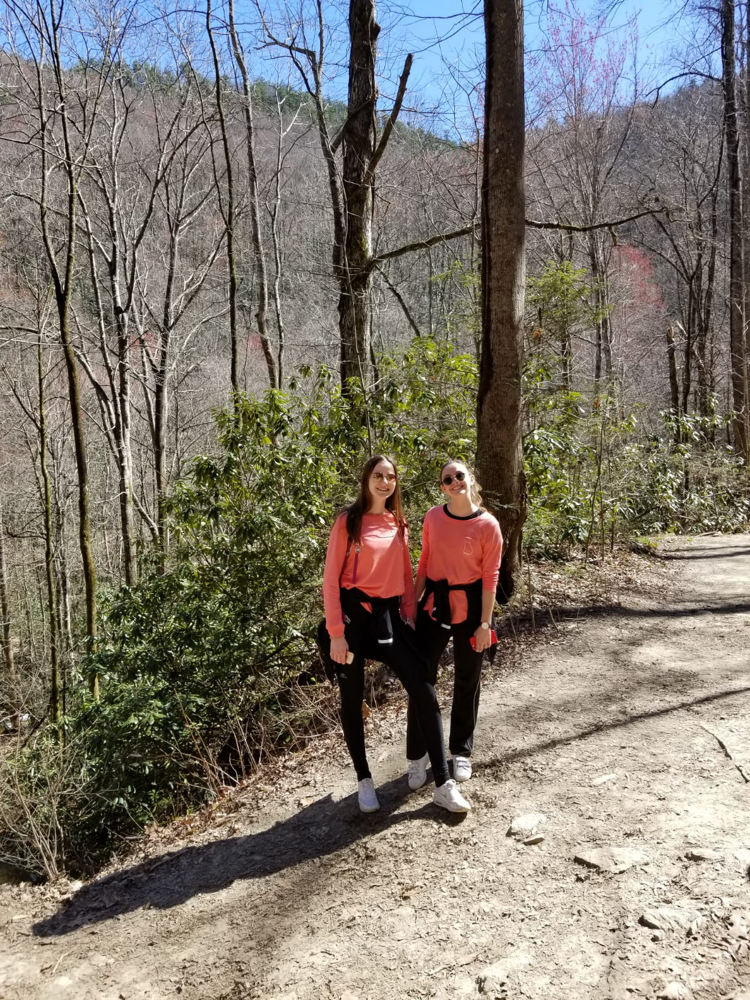 Happy Spring Break! No school for a week, that's great!
For most students here, Spring Break means party. A lot of my friends are going down to Panama City Beach, Florida. But Sara and I reserved our break for traveling.
The first weekend of the break (the past one), our host family took us up to North Carolina to visit my host mom's brother and his wife.
We left Friday after school and arrived - after six hours - around midnight in the mountains of North Carolina.
We had to make sure, that we took all food and things, that might smell like it, our of the car, because otherwise a hungry bear with no hesitation to break the car in order to get the food might stop by.
The house is on top of the mountain and, believe me, you're glad if you own a four-wheel drive car. In the morning, we could see squirrels and birds running / flying up and down the deck, getting some bird seeds or pieces of apples.
On our first day there, Saturday, we went for a hike along a waterfall. It was really pretty and not too hard. The hardest part was crossing the river without getting my shoes wet... it might have taken me a little bit longer than the others, but in the end, even I made it. ;-)
When we arrived at the top, Sara and I decided to get in the water anyways - but just with our feet. Of course I expected it to be cold, but the water was freezing cold!! We only waded through the water for a couple of minutes before drying our feet and heading back down.
After that, we found, we deserved an ice cream, so we went to McDonald's in the middle of nowhere.
The next day, we went to a small town called Black Mountain. This town was probably the closest to a German town of all the US towns that I've been to since I got here. There were small, unique shops selling handmade crafts and clothes.
Sara and I bought matching shorts with a bear pattern on them, so we can always remember North Carolina and its bears.
Also, we stopped at a lake, from where we had an awesome view on the "Seven Sisters". The Seven Sisters are a row of seven mountains, that are connected to each other in their silhouette.
After an Italian lunch, we headed back to the house and from there back to Georgia.
Today, Monday, Sara and I fly to Washington, DC to visit my uncle and his family, and to do a little sightseeing in DC.
I'll tell you more about that in my next post!
See y'all soon!
-Lea