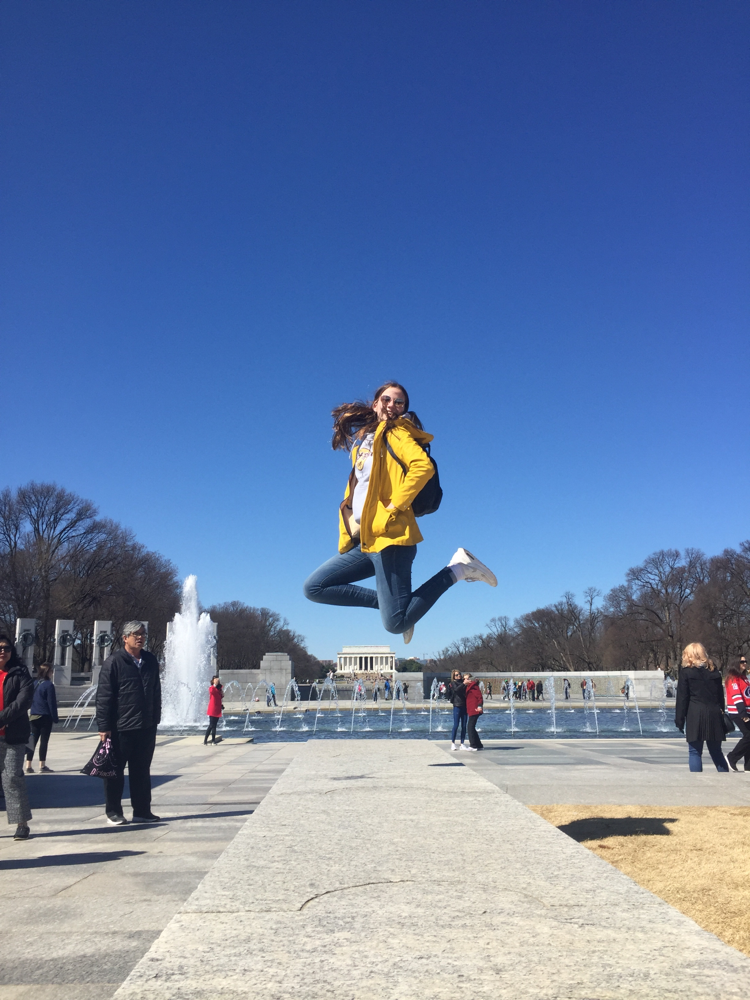 Monday afternoon we flew from Atlanta to Dulles Airport. Our flight went off without problems and we arrived around 5 pm. Then we
Ubered
from the airport tomyuncle'shouse.Uberisatransportationservice similar to taxis, just that all communication and payments are made over an app. Also, ordering an Uber is often faster and cheaper than calling a taxi.
When we arrived, we had dinner, made a plan for the next day and then we went to bed.
Tuesday was our first day in Washington, DC, and we tried to do as many things as possible. When we left town again around 3 pm, we had walked the National Mall, visited the World War II, Vietnam War, and Korean War Memorials, been to the Lincoln and Jefferson Memorials and had taken about 1000 pictures. XD
In the afternoon, we mainly played with the kids.
Wednesday was our Shopping Day. My uncle was so nice and dropped us off at Tyson's Corner Mall, so Sara and I got there about ten minutes before the stores opened and we're one of the first ones to start shopping! 
It was a successful day, because stores like Levi's and Abercrombie and Fitch had some really good sales.
In the afternoon we played with the kids.
Thursday we went to town again and did the sights, we hadn't seen before. Like the Capitol, the Library of Congress and the eastern part of the National Mall. 
Friday Sara and I had planned to cook. So, after we dropped off the kids at their schools, we went to the store and bought everything, we needed for the next two dinners. After the grocery shopping, we took the metro and went to town again to to the remaining sights, that we hadn't checked off our list yet.
First, we visited Arlington Cemetery, the biggest cemetery I've ever seen. It's about the size of a small town, that's full of white tombstones, each representing somebody who died. That was really impressive.
After Arlington, we went to Georgetown. Georgetown is a part of DC that reminds of an Old Town. It resembles my German town, the only difference is the selection of stores, and that it's full of rich college students.
When we came home in the afternoon, we started cooking a Spanish Dinner: Tortilla de Patatas with Tomato Salad. It more or less turned out good and delicious.
Saturday was our family day. We had breakfast all together with my uncle, my aunt and my two cousins. Then we went for a hike around a closeby lake and took the "muddy trail" which we were definitely not equipped right for. 
We just played with the kids and spent some time with the family! All in all it was a great trip and I'm super glad that I got to see my family!
It was an awesome spring break!
- Lea